How Zoho Built a Billion Dollar Business (And Is Quietly Taking on Google and Microsoft For Cloud Dominance)
Zoho has taken something of a unique path to business success. Profitable from its very first day, the company has always resisted accepting funding. 

Nevertheless, it's challenging some of the heavy hitters in cloud computing.
The story of Zoho Corporation starts with its founder, Sridhar Vembu.
Here are the highlights of Vembu and Zoho:
Born to a middle-class family in Chennai, India, Vembu was the first of his family to go to university.

Started in 1996 with zero outside funding; profitable from Day 1 and profitable to this day

Today: has 5,000 employees and generates a yearly revenue of nearly $500 million and estimated market value of between $5 billion – $15 billion (Zoho is a private company so it's impossible to get a precise calculation. But since a near competitor, Hubspot has a price to sales ratio of 11, then Zoho's value will be in that ballpark).

Zoho One incorporates 40 different applications.

According to Vembu, about 60% of Fortune 500 companies use a ManageEngine product.

Reinvests a whopping 50% of profit into R&D (which is more than double the industry average)

Created Zoho University as a breeding ground for new talent (and reportedly creates world class programmers in 24 months of training and with zero prior coding experience).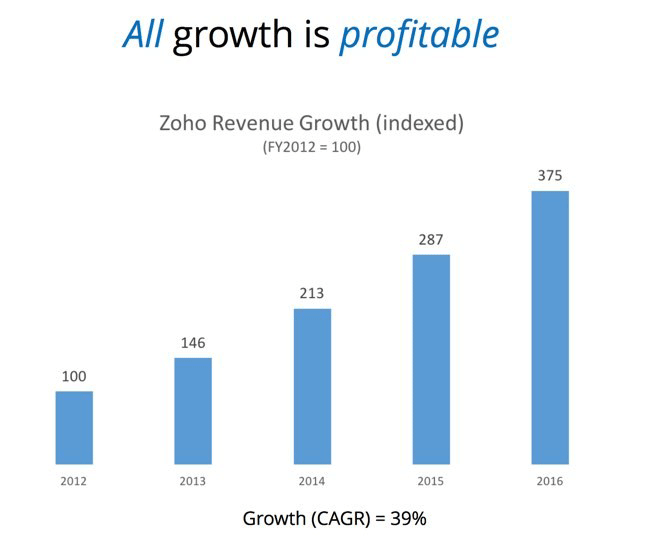 Over the next few pages we've deep dived into their business and reverse engineered their formula… and we've uncovered 7 secrets:
Secret #1: Value Packed Offer – Their Bold Pitch Is "Run Your Entire Business For $1 Per Day, Per User"
Secret #2: A PPC Strategy That's Crushing It – Especially Recently
Secret #3: How Zoho Uses The Freemium Model
Secret #4: Culture of Innovation as Competitive Advantage
Secret #5: Building for the Long Term as Competitive Advantage
Secret #6: Why Zoho Invests 50% Of Profit Into R&D and How It's a Competitive Advantage
Secret #7: How Zoho University Is a Breeding Ground for New Talent
But first…
Zoho's Traffic Profile

Zoho generates tonnes of traffic. Globally they're ranked at an impressive 768 – making it one of the highest traffic sites in the world.

They have 6,709 first page organic keywords in Google and 1,967 in Bing and Yahoo.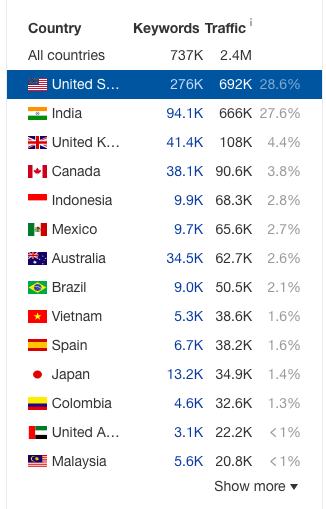 As you can see, Zoho's traffic comes from a diverse range of countries. But over half comes from two – the US and India.
They have 737,000 organic keywords of which 9,400 are PPC related keywords. Interesting, the traffic value of their keywords is $6.4 million in total of which $1.3 million is PPC.
This means their organic traffic value – if they were only driving paid ads – would be $5.1 million per month – over $60 million per year!

Zoho have a strong presence on Google. As you can see below they have 12,766 keywords in the top 3 positions – wow. Given they're not really focused on content marketing (relatively to Hubspot) this goes to show their domain authority and strength of backlinks.

And their top 5 organic keywords are listed below. You'll notice that their #1 organic keyword is their home page – reflecting the strength of their brand.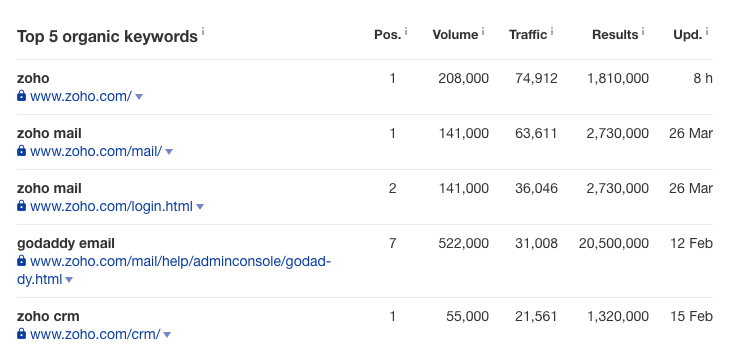 They are also spending a decent amount of money on ppc ads. Later we'll reverse engineer their PPC strategy in more depth but it seems to be working a treat. All their PPC ads seem to be advertising a FREE trial of their various products, most notably Zoho One.

And during 2017 they had a huge surge in backlinks. A deeper analysis of this surge by our team seems to point towards an update to Google's algorithm.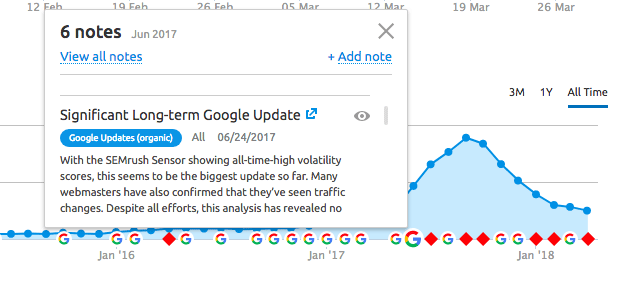 Now, having said that, also during this period Zoho had two big announcements:
February 28th, 2017: Zia – their A.I powered assistant. As you know, AI is big, big news nowadays.

July 25th, 2017: Soho One
Who Is Sridhar Vembu?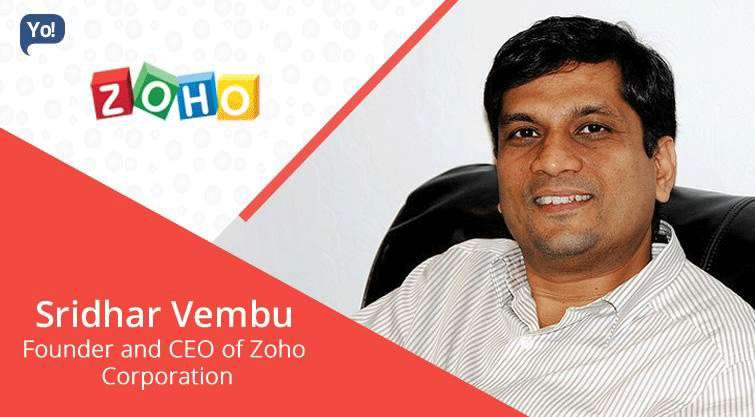 He completed his undergraduate studies at IIT-Madras. Then, he moved onto Princeton University in 1989.
Vembu studied electrical engineering, eventually receiving his PhD.
Opting to stay in the United States, Vembu began working as an electrical engineer in 1994. During this period, he learned a great deal about wireless communications. He also kept developing his knowledge about economics and political science. It was those studies in political science, and his understanding of Indian socialism, that led him to return to his native country.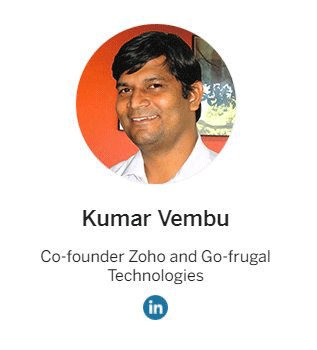 Teaming up with his brother, Kumar, he aimed to use technology to solve India's issues. This led to the creation of Vembu Software in 1996. Working out of a tiny apartment in Chennai, Vembu planted the seeds for what would become Zoho.
But it was his collaboration with Tony Thomas that led to the launch of the Zoho Corporation, also in 1996. Coming at the beginning of the dot-com revolution, the business had a simple aim. It wanted to bootstrap its way to the top, taking on no external investment, outside of a little help from family and friends.
They enjoyed fast growth. Between 1996 and 2000, Zoho expanded to the point where it has seven employees in the United States. A further 115 engineers worked from India and the company generated revenue of about $10 million.
But the burst of the dot-com bubble in 2001 put paid to that early success. Zoho went from having 150 customers to only having 3.
That's when the company went in a different direction. With so many unused resources available, it started creating even more software products. This led to the creation of the ManageEngine software. A business operating system, ManageEngine helped businesses of the time. In particular, it focused on helping them use a new spate of technology.
The company's fortunes rebounded. In the years since, they've split their services into three divisions:
Today, the company has a worldwide reach and is a leader in the cloud computing sector. In particular, Zoho Corporation aims to spearhead the emergence of cloud computing in India. As of 2017, it has 5,000 employees and generates a yearly revenue of nearly $500 million. It's also in prime position to be a leader in an Indian cloud computing market that experts believe will have a value of $175 billion by 2020.
All of that for a company that hasn't accepted a penny in investor funding.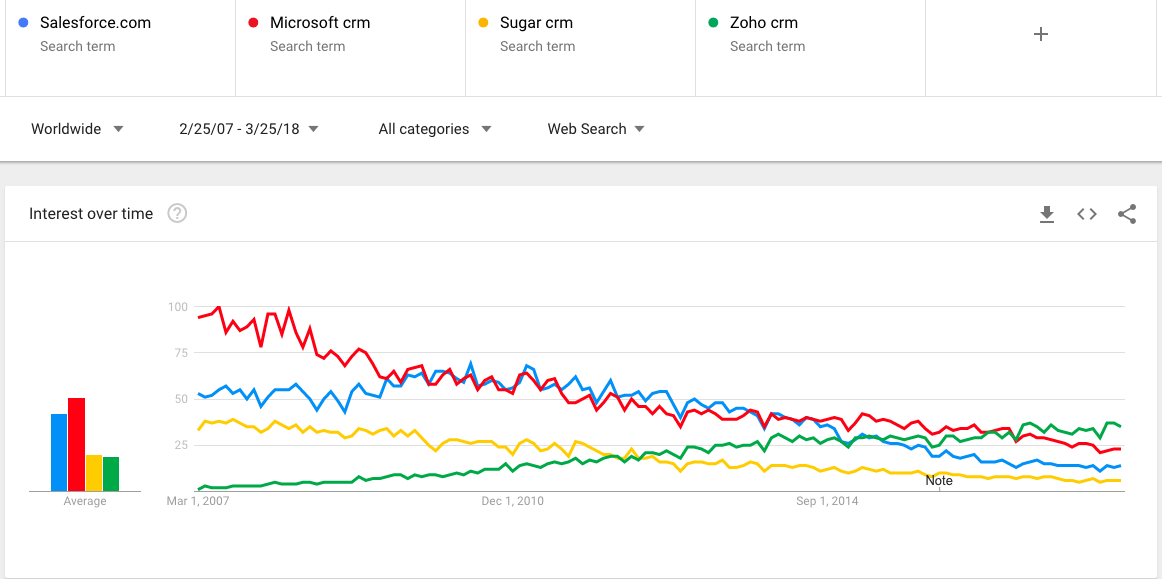 Zoho is playing the long game… and it seems to be paying off. Over the last 10 years or so interest in Zoho has steadily been increasing, as reflected in this Google Trends image.
10 years ago they were relatively unheard of with Salesforce and Microsoft CRM far outstripping them. But now, it's Zoho that's leading the pack!
Impressive.
Before we exlore how Zoho pulled this off, Manage Engine deserves special mention.
At the time of writing, about 90,000 organisations use the ManageEngine projects. About 10,000 of these are in India, but the platform has a worldwide reach. According to Vembu, about 60% of Fortune 500 companies use a ManageEngine product.  

As you may know, Zoho introduced its ManageEngine suite in the wake of the dot-com bubble bursting. The suite provides a range of services to any business that uses IT.
The idea came about during the emergence of technology such as the Internet in the 1990s. Zoho realised that companies would become reliant on such technology to conduct business. They created ManageEngine to streamline the most important processes for business.
Today, ManageEngine is a separate division within Zoho. It offers a range of products that cover the following categories:
That's just a small sample of what ManageEngine has to offer to businesses. All told, about 30 products fall under the ManageEngine banner.
Zoho makes each of these available to customers on a free trial basis. You can experiment with the software of your choice for 30 days before making a purchasing decision.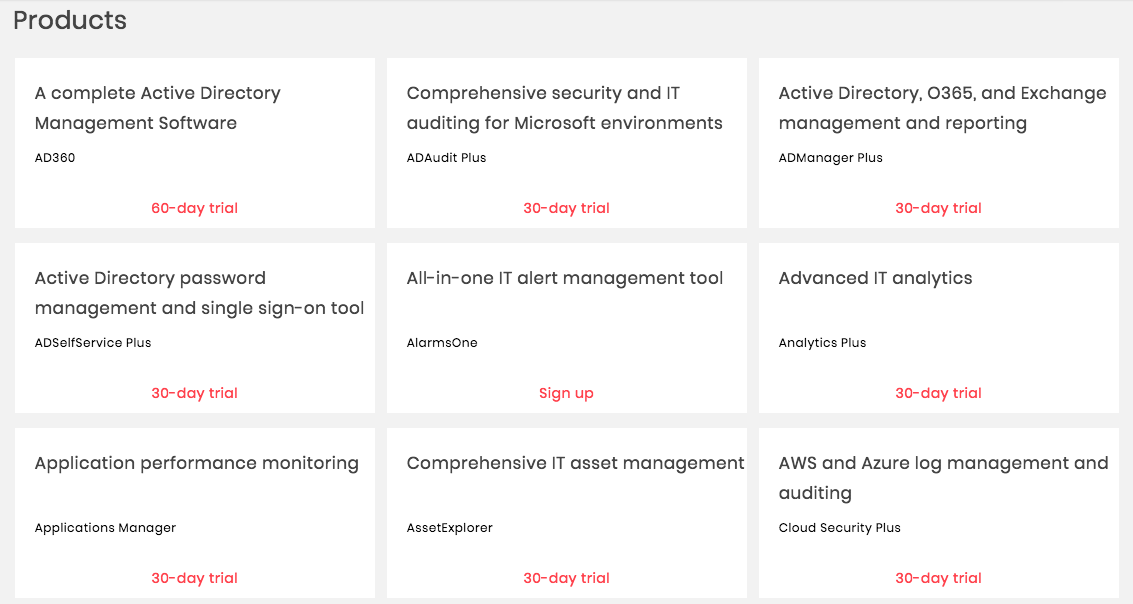 Zoho also offers the ManageEngine suite in the Software as a Service (SaaS) model. This leverages the power of cloud computing to offer greater software access and flexibility. Businesses can choose which services they need and generally only pay for their usage.
Zoho was one of the first to experiment with this form of software distribution. Today, it's seen as the standard by many of the world's largest companies.
Secret #1:  Value Packed Offer – Their Bold Pitch Is "Run Your Entire Business For $1 Per Day, Per User"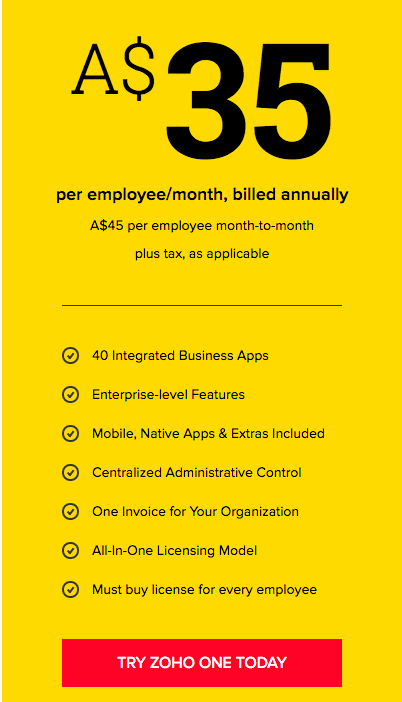 For a more detailed outline of their plan, go ahead and click on the link below – it's just TOO long to list here! The above pricing is in AUD.
https://www.zoho.com/one/plan-details.html
From the beginning, Zoho has bet big on its business model. The company has great belief in what it has to offer. To this day, it hasn't accepted any money from outside investors. Instead, it relies on the quality of its product offering to attract business, earn revenue, and grow.
Most importantly, innovation lies at the heart of its offering. Zoho has always found itself at the forefront of technological advancement.
It was one of the first companies to offer dedicated services to dot-com business. Zoho also adopted the cloud computing model long before many larger businesses.
Simply put, the company bets on itself to use new technologies to the benefit of its clients. More often than not, these bets pay off.
Recently, the company has made a few bold moves that continue this innovation-first model. The 2017 launch of Zoho One is key to the company's future plans.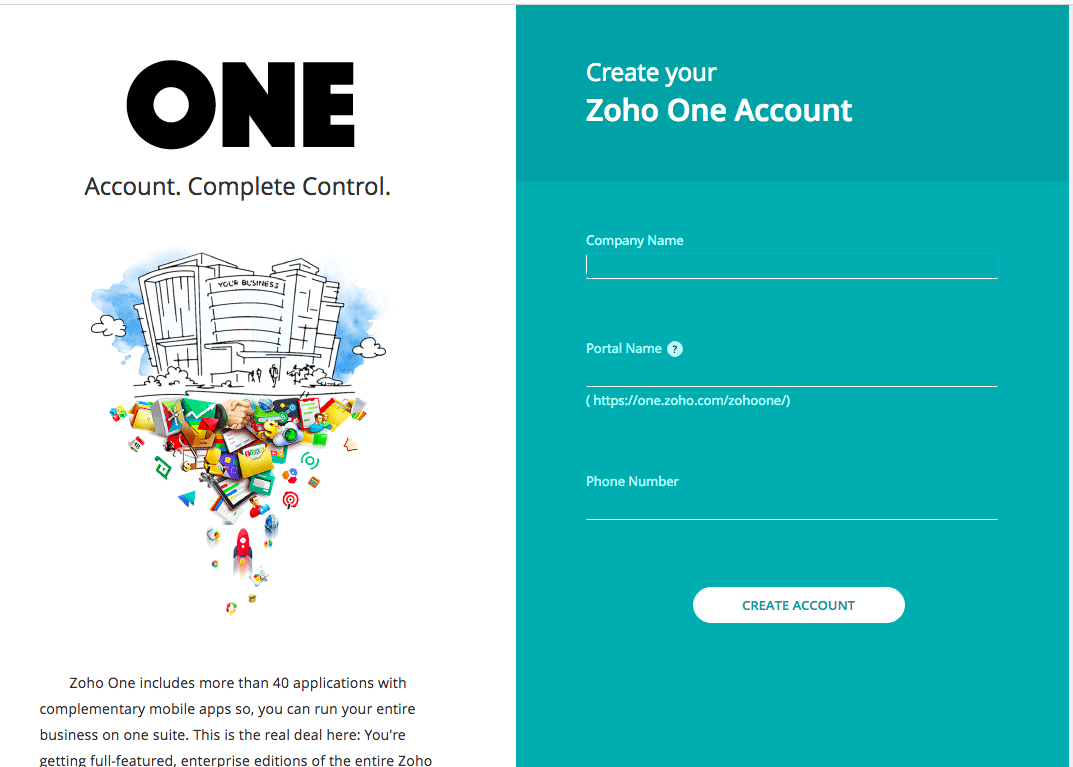 Zoho One has a simple aim – to become the operating system for your entire business.
The new package relies on the subscription model that many cloud computing services offer today.
But it comes with a key difference.
Zoho One wants to offer every single thing that a business needs to work. Moreover, it wants to do so without forcing businesses to mess around with licenses.
With Zoho One, you don't have to worry about paying 10 different prices for 10 different applications. You get everything you need under one banner.
All told, Zoho One incorporates 40 different applications.
Of course, different businesses have different needs. Some of the applications in the Zoho One package aren't relevant to some businesses. You may find that you use five of them constantly, while barely having a use for the others.
Conversely, some businesses may use the entire suite.
The point is that it's all there and ready for you to use, should you need it.
The company's current Chief Evangelist, Raju Vagesna, compares it to the cable subscription model.
"We may not watch every single channel that we have but there are a few channels that we may be watching frequently," he says.
"The price is low enough so that it justifies paying for the subscription and not worrying about going and licensing every single channel and managing subscription and contract cycles."
He continues to say that a company's accounting department may not need access to a CRM. Moreover, the sales department doesn't need to use accounting software.
But Zoho One brings all of these services into a single package.
This simplifies licensing and software purchasing. Business owners have access to the entire suite at all times. Each department uses the applications that have the most relevance to them. Most importantly, businesses don't have to juggle all sorts of different licenses. They have everything they need with one license.
That's a fairly new concept for enterprise software.
In fact, Zoho has jumped ahead of other enterprise software companies, like Microsoft, with this package.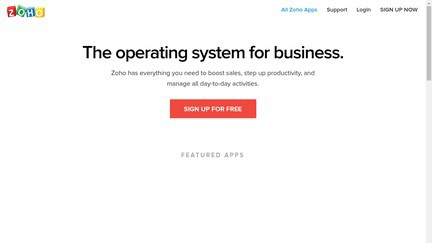 Zoho recognises this, which is why they're emphasising three important points for Zoho One:
It's Simple

. Using Zoho One eliminates the need to search out different enterprise applications. You don't have to mess around with multiple licenses and keep updating the software. Zoho One handles all of that for you. This allows businesses to focus on their work, rather than their operating system and software.

It's Transparent

: With Zoho One, you know exactly what you're getting as soon as you pay your money. Moreover, Zoho keeps its clients updated on what they're doing with the service. The company maintains a blog related to Zoho One. It updates regularly to inform subscribers of what they have in store for them.

It's Cost-Effective

: Think about the cost of all of the different software packages that your business uses. You may spend hundreds of dollars on each software. Then, you have to pay for updates every so often, as well as maintain the software. Zoho One simplifies things. Businesses pay $30 per month per user. For that, they get quality and simplicity. Moreover, they have an exact figure for how much they spend on enterprise software each month.
Of course, customers also want to know what they receive with Zoho One. As mentioned, it aims to offer everything that a business needs.
Using cloud computing, it offers CRM, human resources, and accounting software. It provides packages for use by sales and marketing teams. Zoho One offers emailing and project management services. Plus, it provides IT helpdesk apps and a full office suite.
That's not all. Customers also have access to Zoho's Creator service. This allows them to build their own applications and incorporate them into the Zoho One service.
So, why would Zoho take such a huge risk?
It's what the company has done from the beginning. But Zoho also understands the economics of cloud computing.
Vembu says it best. "The fundamental thing that's powering the cloud, if I had to summarize it in one sentence, is massively reduced systems management costs.
"All of Zoho's infrastructure is managed by 30-50 people worldwide, full-time, 24×7 round the clock," he adds. "For the size of the customer base we manage and the number of customers who use the number of solutions in breadth and depth, it's just an incredibly efficient number."
Cloud computing pulls Zoho's costs down. These savings get passed on to clients. That's why it's capable of offering such a huge suite of services for such a low subscription cost.
Moreover, Zoho understands that its use of cloud computing benefits businesses in other ways. Vembu points out that a traditional IT enterprise would need 50 times as many people to operate at the same level as Zoho. With Zoho One, businesses save on all of these labour costs.
Zoho has bet the farm on the success of Zoho One. But they've also crafted a service that's very appealing to businesses. Once again, the company leads the line in enterprise software innovation.
Secret #2: A PPC Strategy That's Crushing It – Especially Recently
As mentioned before, Zoho invest about $1.3 million per month in PPC ads. And as you can see below they are bidding on 38.3k keywords.

Here is their best peforming PPC ad: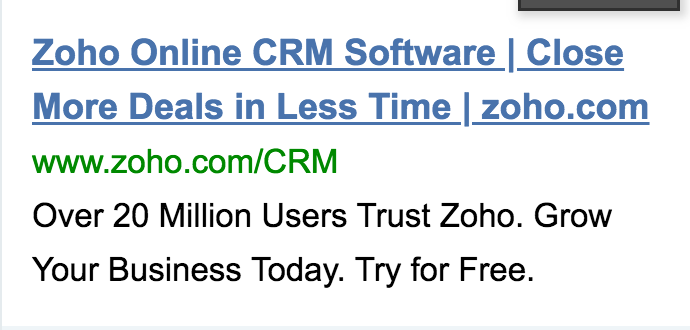 Notice a few key points:
The main headline delivers the key benefit companies want in a CRM – closing more deals in less time

The subhead has strong proof with 20 million users

Powerful offer – "Try for Free".
Next is their top performing landing page: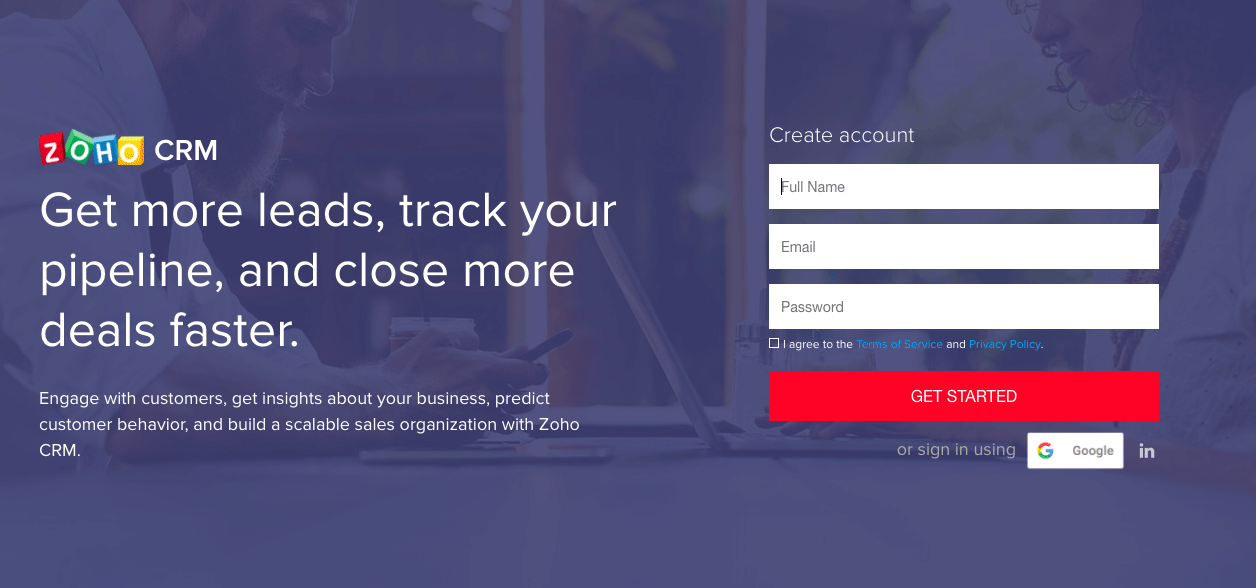 This is a good landing page and here's why:
There is a clear message to market match i.e. they visior clicked on an ad about the CRM and so they land on a page about the CRM

There is a strong headline

The call to action button is red (this is one of the best performing colours for call to action buttons)

They offer a Google Sign In option to make it easier

The headline is in the top left hand corner of the page.

And the "Create Account" fields are on the right hand side.
This is important because eye tracking studies show consistent patterns of behaviour.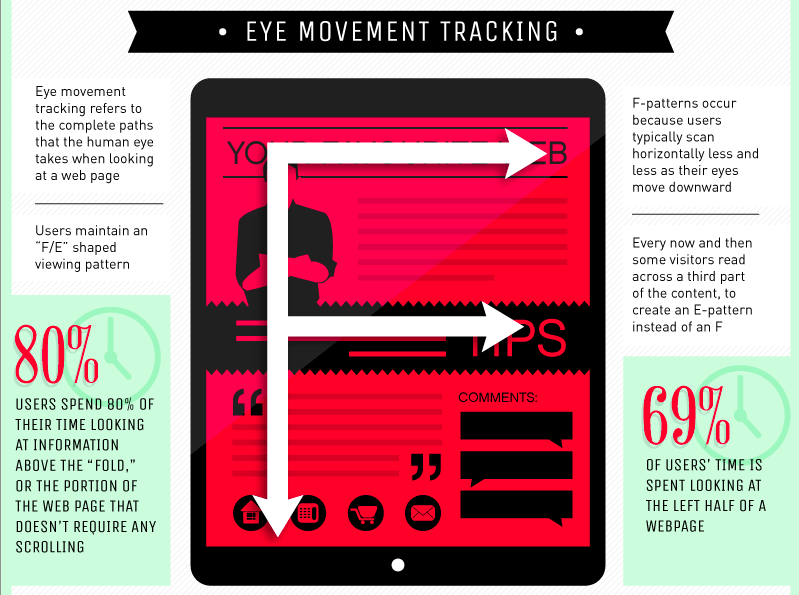 When visitors want more information about the CRM, they can scroll down and see the following – all solid stuff. These specific stats add believability to the overall benefits of the CRM.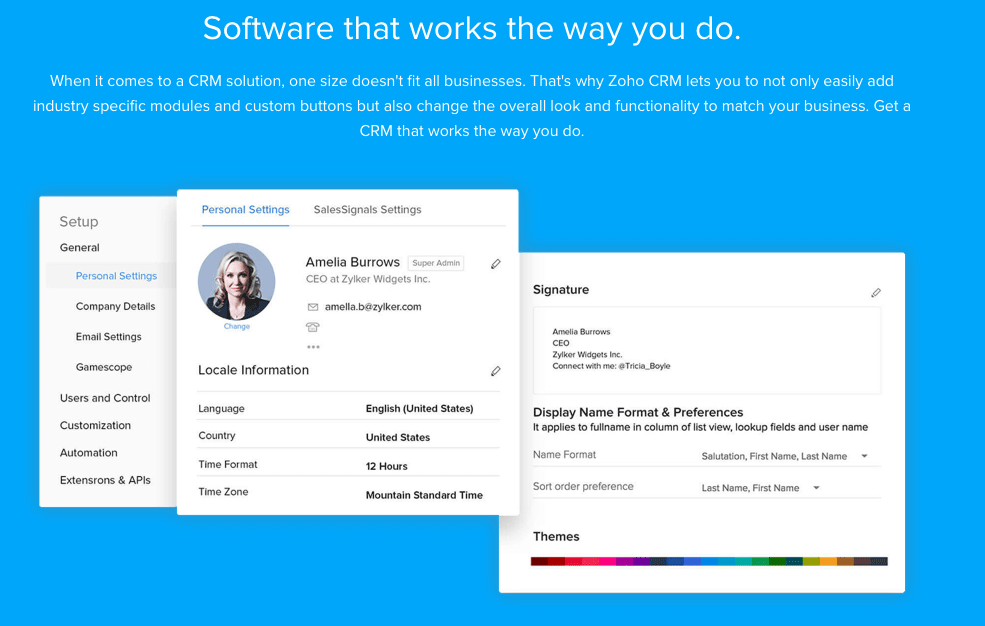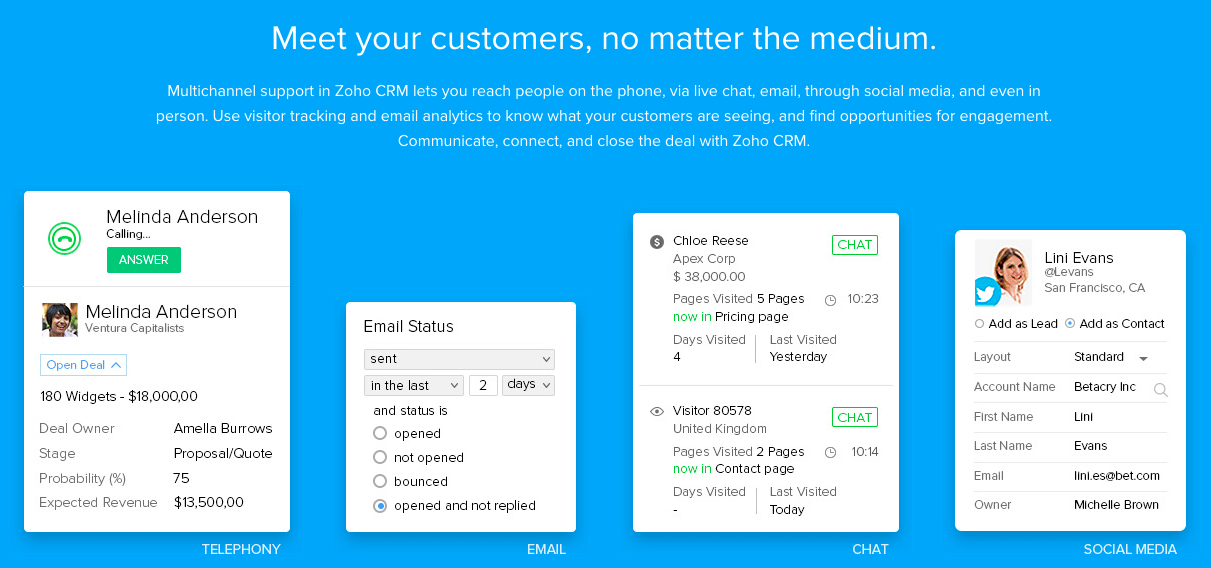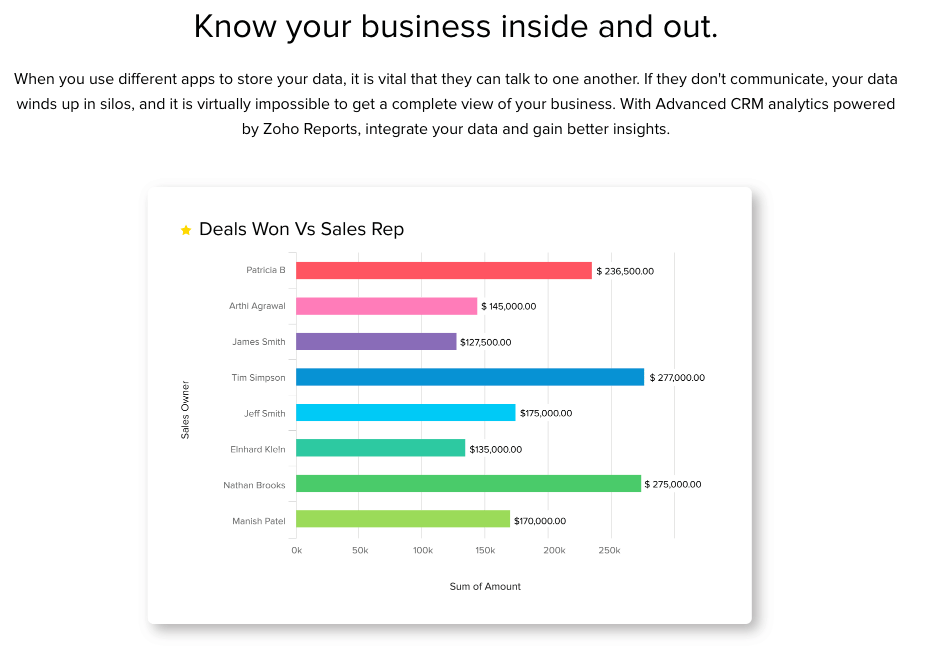 We analysed all their other best performing ads and the same patterns arise. Here is their next best performing ad:


As you can see, Zoho have a similar methodology yet again. There is the catchy headline with the keyword (email) that they are bidding on.
The body of the ad has a strong benefit. And of course, they have a strong FREE offer.
Secret #3: How Zoho Uses The Freemium Model"
The core of Zoho's acquisition strategy is their freemium model. Free trials are not a new idea, and many SaaS companies have successfully scaled using it.
Many have also failed and bled out their cashflow.
Zoho is of a different ilk.
What's their secret? Two fold:
Sign up is very easy.

Their products are "sticky". They're sticky because they're surprisingly easy to use. But Zoho track which users fail to interact with their software… who they in turn proactively reach out to assist.
Let's take a closer look at the FREE trial process for Zoho One.

You'll see the call to action for Zoho One above. Notice how clean and easy it is to follow. Plus, a red call to action we've found is one of the better colours for buttons (the other colour is yellow).
Once you click on the Start a 30 Day Free Trial" button above you're then taken to the next page.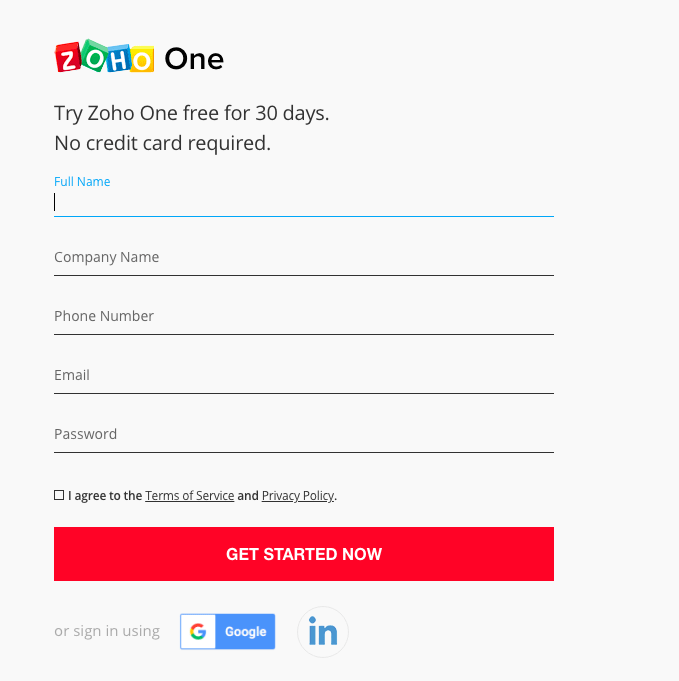 The registration process is easy to follow. There's nothing here that should cause conversion bottlenecks. You can tell this clean, easy to follow design is the result of a lot of split testing. A few key elements standout:
Reiteration of their unique selling proposition

Minimal fields

Reiteration of the offer and addressing of objection.
Again, per Zoho's guiding philosophy of simplifying, you'll see no superfluous fields. They ask the minimum of a prospective user.
Zoho promise to get you started with their tools inside of 30 seconds. So I put them to the test… and lo and behold it's true!
Their onboarding is so easy to follow that I found myself inside the CRM before I knew it.
In addition, they give personal service. A few minutes after registering I receive this email from my account manager. Notice he offers to chat to me over the phone and guide me through the software.
He's even got a local number in his sig, though he is in all likelihood located overseas.
Remember, this is a FREE trial at this stage and if I buy I can start out for about $1 per day! That's not a lot of revenue. Obviously, Zoho is banking on companies sticking (and ascending through the buying cycle after trial).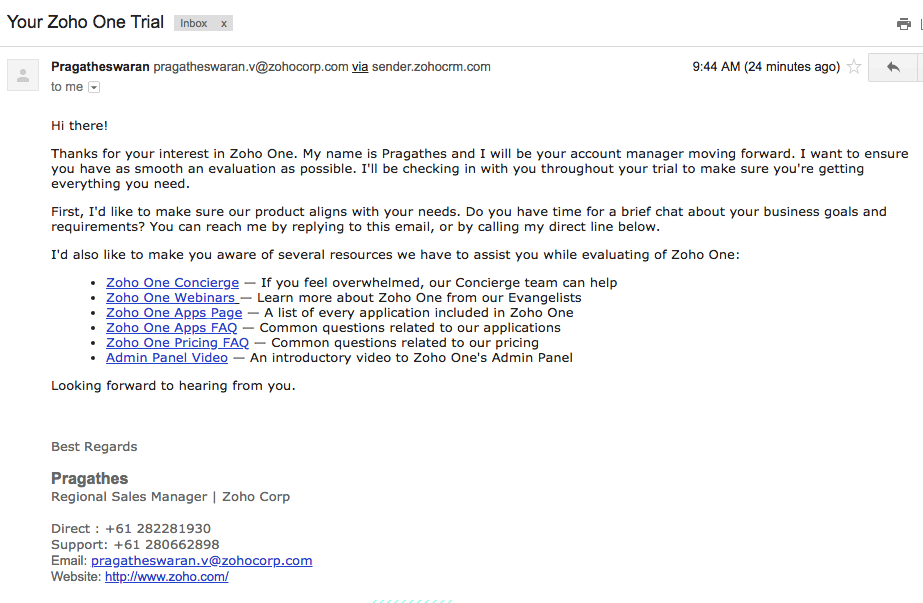 Once you're inside Zoho One you can choose which apps to activate – it's as simple as ticking a box: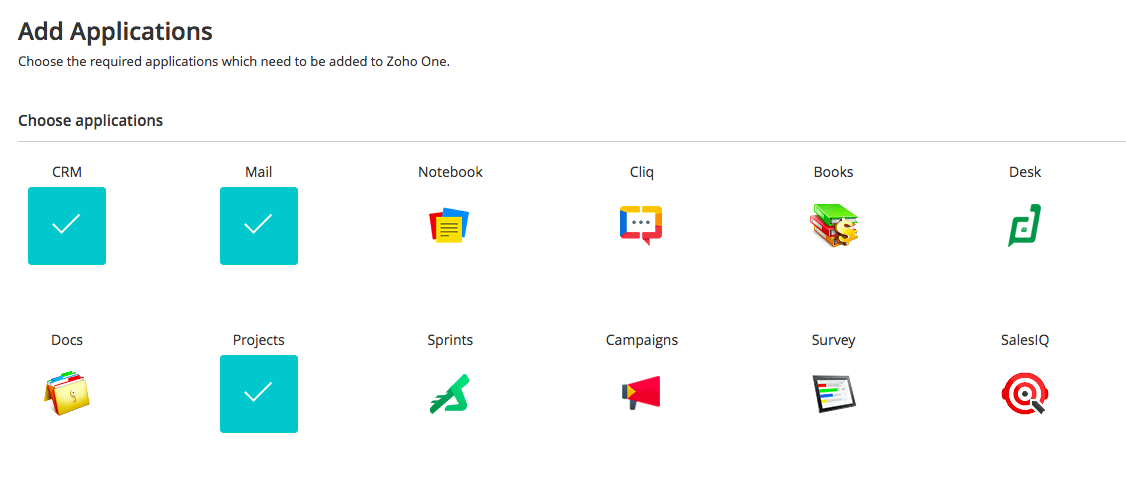 5 Steps to Make Freemium Work For You
The freemium model presents many advantages. But there are also plenty of pitfalls that can lead to your downfall. Failure to prepare for the transition to the model could lead to your company failing.
Zoho has made the transition well. But what do you do if you want to emulate their success? Here are five steps for making the freemium model work.
Step #1 – Coordinate Your Team
As with any large project, an uncoordinated team can lead to failure. With a freemium model, you're creating a huge shift in the way that you do business. If your team isn't fully committed, you create barriers to the success of the model.
Unfortunately, this is a problem that many businesses face. In their rush to adopt the freemium model, they fail to get everyone on the same page.
The story of Helpstream provides a cautionary tale.
The company adopted a freemium SaaS model. But it failed to get its sales and marketing teams on board and it ultimately killed the business.
The company's former CEO, Bob Warfield, admits to this. He notes that the company's sales department had no interest in following his freemium vision.
It didn't want to spread sales via the freemium model because that would lead to lower commissions.
They didn't understand that the long-term success of a freemium model brings in more customers. Instead, they focused too intently on what it would mean for commissions in the short term.
Step #2 – Figure Out the Free Offering
As mentioned, you're competing against yourself with a freemium model. If you give customers everything that you have for free, they won't spend money on premium services.
As a result, you must think carefully about what you offer for free. But how do you do that?
Let's say that your service offers 30 applications. You decide to offer five of these applications for free. The key is achieving a balance with the free applications. You can't offer so little that customers have no interest in the free service. But you also can't offer so much that customers feel that they don't need the premium service.
Achieving this balance is the tricky part. It requires a lot of tweaking. You run the risk of angering customers if you make a previously free application a premium offering.
In this example, you'd offer a couple of your most useful services, alongside several niche products. This shows free users how useful your premium service could be. But it also ensures they don't get too much for free.
Analyse your traffic and subscription numbers constantly. Don't assume that the free offering that you start with will be the most successful one.
Step #3 – Explain the Premium Offer
There's another barrier that may prevent customers from signing up to your premium offer. If they don't understand it, they won't want to pay for it.
Once you've decided on what you'll offer for free, focus on what the premium service has to offer. Make the benefits of upgrading crystal clear. Any murkiness complicates your marketing efforts.
Dropbox offers an excellent example of getting a premium offer right. A cloud storage company, Dropbox offers everybody a set amount of storage space for free. Customers need only sign up with an email address and password. Thus, they have easy access.
But Dropbox also chooses its free storage limit carefully. Offering only 2 gigabytes of storage means their free service works well enough for simple documents. But it's not enough to handle large collections of media, such as movies and music.
Thus, the premium offering becomes simple. Upgrade to premium and you get more storage space.
It's simple and to the point. Customers know exactly what they're getting for their money. They can also see the advantage of the premium offering. Aim for something similarly clear and transparent with your own premium service.
Step #4 – Learn About Conversion Rates
A freemium model has two purposes:
Attract more traffic to your product.

Convert as many free users into premium users as possible.
Your conversion rates tell you a lot about the success of your freemium product. But they're also not as simple as they may seem.
Let's deal with the lower side of the scale first. If you have a low conversion rate, you have one of two problems. When you have a lot of traffic with few conversions, you're offering too much for free. Going back to Step #2 and making some tweaks usually helps here.
But if you have low traffic and low conversions, there's a more serious problem. Your service isn't connecting with the audience. Perhaps you need to offer more to make the model work. Or, your marketing efforts aren't doing enough to bring attention to the service. Either way, there's a problem with the overall product offering.
High conversion rates offer a little more complexity. That's because they're often misleading. A high conversion rate seems like it should always be a good thing. And it is, if you have high traffic numbers. High conversions and high traffic mean you're offering something attractive that people want to pay for.
The problem comes when you have high conversions and low traffic. A conversion rate of 60% means little if you're not attracting new users to the service. Remember the first purpose of the freemium model. You want more traffic as well as high subscription rates.
Link your traffic and conversion rates. Figure out where you want each to stand at to make money from your freemium model. Then, make tweaks until you achieve the desired rates.
Step #5 – Create an Innovation Schedule
A stagnant freemium product falls by the wayside. If you're not constantly offering something new, you run the risk of losing subscribers. Premium users pay a subscription fee because they expect you to keep updating your offering. If you don't, a competitor will come along who does. You'll lose your previously converted customers and generate bad word of mouth.
Look at Zoho as a good example of how to get the freemium model right in regard to innovation. The Zoho One product doesn't just offer a suite of software and leaves it at that. Zoho constantly updates the software packages within the suite. This means they keep providing value to their customers, which keeps subscription levels high.
Follow the same model. Before launching your freemium service, create a plan for the next few years. Figure out which trends will influence your customers' demands in the future. Schedule updates and keep innovating. Always keep one eye towards how you can make things better for your users.
Best Performing Blog Posts
It seems Zoho hasn't buckled down their content machine yet. You'll see below their top performing content piece was "Giving Tuesday 2017".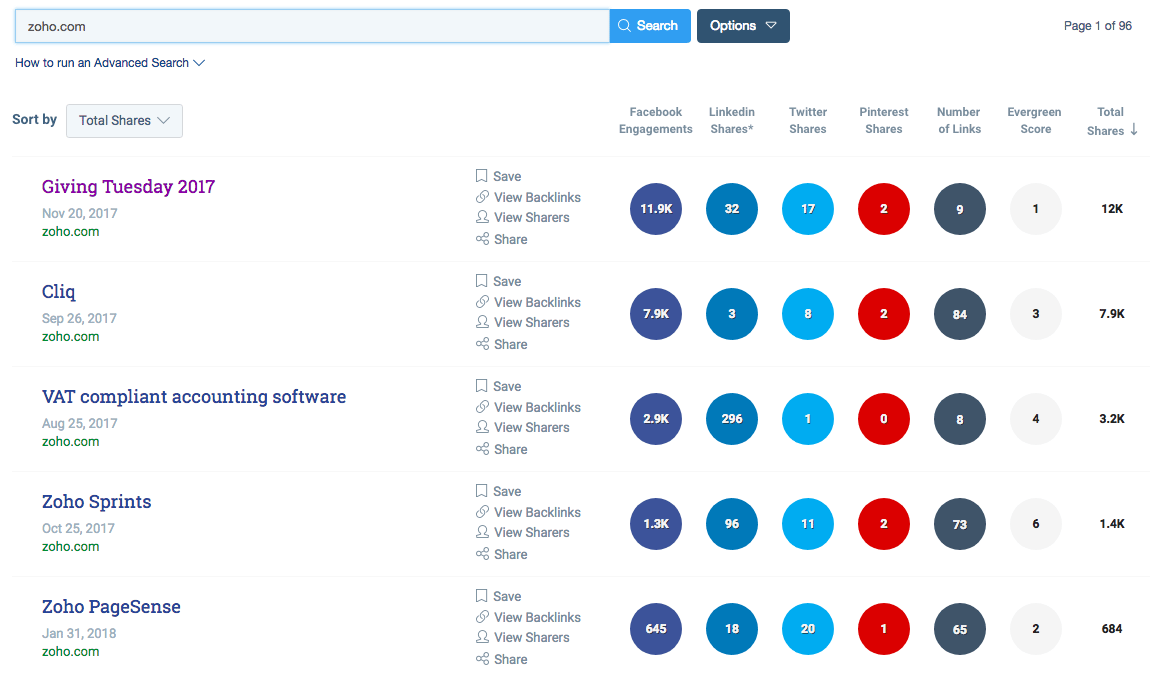 Upon further investigation though you'll see it's not really content – it's an App Giveaway for Non-Profits.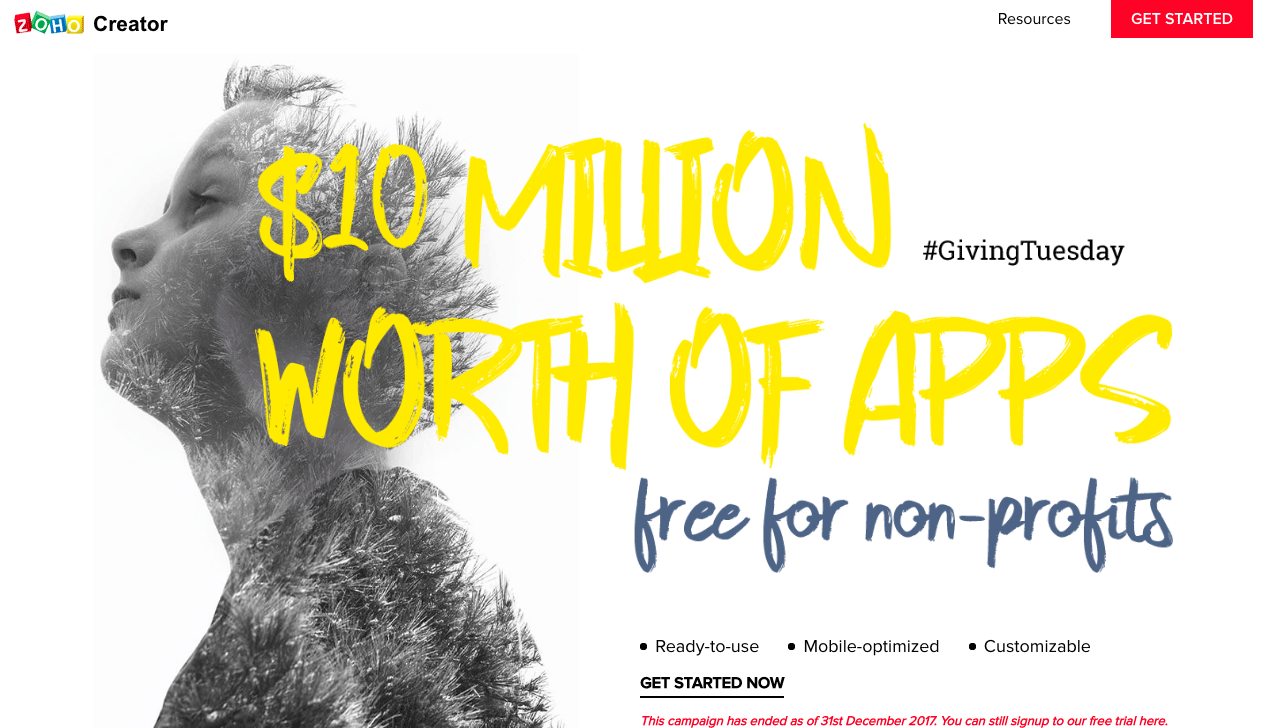 Hubspot, a notable competitor of Zoho, have a much bigger focus on content marketing. You can see that their top post of the last 12 months was "12 of the Sassiest Brands on Social Media" with 7.9k shares.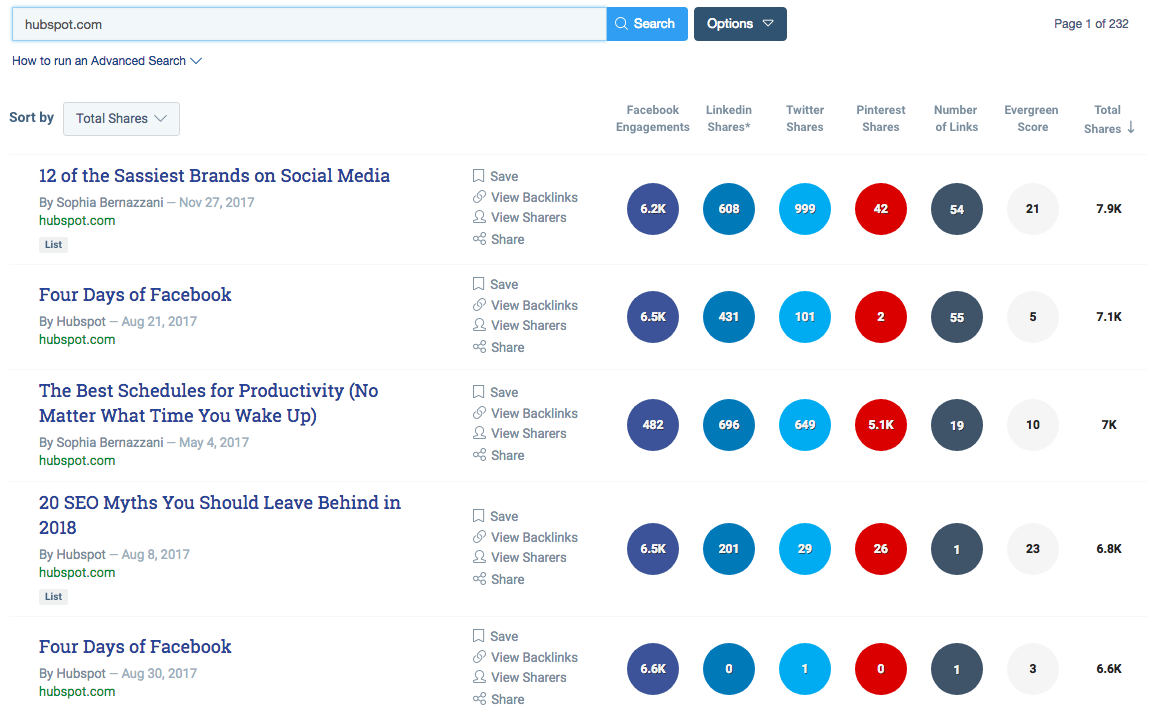 But more than that, notice how the next closest contender was "Four Days of Facebook" and then "The Best Schedules for Productivity (No Matter What Time You Wake Up) with 7.1K and 7K total shares, respectively.
If we go back to Zoho we'll see total shares of their content quick drop to 684 for their 5th most viral piece. Comparatively, Hubspot's 5th most viral piece had 10 times as many shares!
Conclusion: Hubspot's content machine is bringing a diverse range of traffic. And if Zoho decided to push their content marketing, given their solid domain authority footing, they'd probably get a healthy ROI from their efforts.
Secret #4: Culture of Innovation as Competitive Advantage
You could argue that Zoho's competitive advantage lies in its desire to innovate. The company has consistently adopted new technologies faster than its competitors. It's also found ways to make its offerings as appealing as possible to its customers.
In staying ahead of the curve, Zoho offers something unique to businesses
Of course, innovation isn't something that comes easy. In fact, people have written thousands of words of content about how to create cultures of innovation within businesses.
Companies struggle with the problem all of the time. When you don't innovate, you stagnate. This simple truth has led to the end of many businesses over the years. They failed to keep up with the times, so they went under.
Just look at Blockbuster Video as a good example. At one point, it was the largest video rental company in the world. Blockbuster had thousands of stores around the world and welcomed millions of customers every month.
Then, Netflix arrived.

More importantly, Netflix popularised the concept of streaming films and TV over the internet.
Blockbuster hesitated.
Instead of jumping onto the streaming subscription model immediately, it stuck to its guns. Perhaps they saw the streaming model as a passing fad.
Whatever the reason may be, Blockbuster failed to innovate in line with this new form of competition.
Netflix exploded in popularity, leaving Blockbuster in its dust. When they eventually launched their own streaming service, it was too late. Blockbuster went into administration, shutting thousands of stores in the process.
They'd paid the price for failing to innovate.
So, what does Zoho do differently?
And how does it encourage a culture of innovation to reign supreme in the company?
As mentioned, Zoho always jumps on the latest technologies and ideas. Its early adoption of cloud computing demonstrates that, as does the Zoho One service.
But the company needs a culture of innovation to keep doing that. Without innovative people, you can't have an innovative company.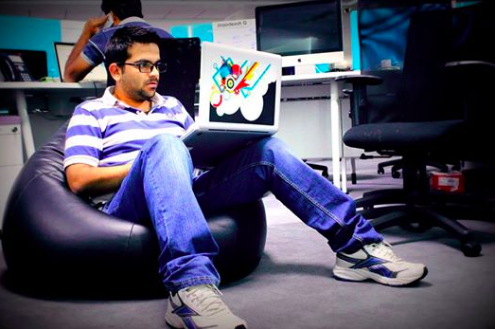 It all comes down to how the company treats its staff. Zoho doesn't create a stiff working environment. Employees have goals, of course. But they aren't subjected to difficult and pressure-filled working conditions. This ensures creativity doesn't get stifled.
Moreover, Zoho incorporates its all-in-one business philosophy into its treatment of its staff. The company offers every employee three meals per day.
These are free of charge.
It also operates a shuttle service for commuters. Employees don't have to worry about fighting their way through early morning traffic. Instead, they join colleagues on the shuttle to get to work. This gives them time to breathe and bond with their colleagues. Who knows how many great ideas have come out of these shuttle rides alone.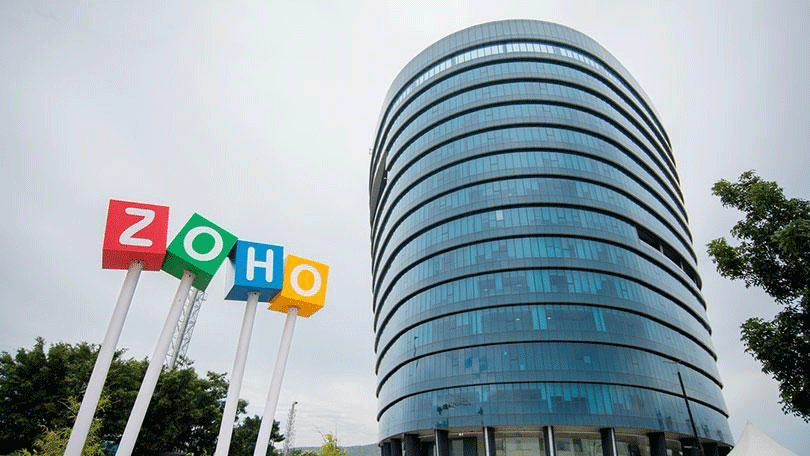 Figure 2 – https://www.pcmag.com/article/348514/why-zoho-wants-to-be-the-operating-system-for-businesses
The open office plan of the company's "Bucket" building headquarters also plays a role. Nobody has an individual office. Instead, every person has a desk in a huge open office. Having a conversation about a new idea is as simple as heading over to the desk of a colleague.
There's more. The building will soon have its own man-made lake. Zoho even employs a botany consultant to beautify the outdoor spaces surrounding the building.
These may all seem like strange expenses to the average business owner. But they serve two purposes.
Firstly, all of these perks improve employee satisfaction. The company's people feel engaged because they know that Zoho cares about them. All of the above are demonstrations of how Zoho wants to create an enjoyable working environment. High levels of engagement also have links to high levels of innovation.
An engaged employee is more likely to want to create something new that benefits the company. That's because they know that anything that benefits the company also benefits them. Innovation, in itself, also encourages engagement. Zoho is an exciting place to work, which engages employees further. It's a cycle. Engagement breeds innovation, which leads to higher engagement. This is also why Zoho has such an excellent employee retention rate. Valuable staff want to stay because they love what they do.
Secondly, all of these services do something even more important. They eliminate a lot of the stress of the daily routine. The shuttle service means that employees don't have to worry about the stress of commuting. Complementary meals mean they don't have to worry about how much they spend at work. Even the building of a lake has a stress-busting purpose. It gives people a place to unwind and get a new perspective on their work challenges and tasks.
Eliminating stress creates a healthier and happier workforce. You need only look at the many studies that link work-related stress to depression and anxiety to see that. Stress also impacts decision-making skills. Plus it prevents people from innovating. Stressed people focus more on their stressed thoughts that they do on creative thoughts.
Zoho creates an innovative environment because it creates a happy environment. People want to work for the company because it encourages them to innovate. It also provides all of the tools that they need to develop new ideas.
An interview between PC Magazine and Zoho employee Hari Narayanan provides more insight into this. A marketing manager, Narayanan quickly pointed out how Zoho helps employees to innovate.
"Other companies make software like it comes out of a factory. We want to look at it like a craft," he says.
"It's the kind of environment where innovation can happen," he continues. "The management tells me, 'Take this budget, try [what you want to do], and if you fail, it's okay. People give us the freedom to make mistakes."
That's Zoho's competitive advantage in a nutshell. They want to keep innovating so that they offer attractive services to clients. They're also not afraid to make mistakes along the way. The company has created a culture of innovation from the moment that it opened its doors. Clients realise this and gravitate towards Zoho because of it. Moreover, they know that Zoho regularly churns out quality ideas because of this very culture.
Secret #5: Building for the Long Term as Competitive Advantage
The adoption of the freemium model demonstrates another of Zoho's competitive advantages. It's always looking towards the long term. With freemium, you're committing to long-term updating and innovating within a single offering. You're betting on building a large enough customer base to allow you to do this. Sometimes, this means spending heavily in the beginning to reap the rewards later on.
But this focus on the long game isn't something new for Zoho. The company has consistently had one eye turned towards the future throughout its history.
It all starts with Vembu's decision to not take any money from venture capitalists (VCs). This may seem like a strange decision to some. VCs often provide the seed money needed for new companies to get off the ground. The trade-off is that they take a portion of the company in return.
Vembu went into more detail about his VC reservations in an interview with Your Story. He describes receiving a term sheet from a VC back in 1999. Back then, Zoho had achieved some success but was nowhere near the monolith that it is today. The VC has clearly seen the company's potential. But something about the offer deterred Vembu.
"…A clause put me off. The clause said that I must go for an IPO or generate liquidity in eight years," he says. "I did not know finance back then, but my mind kept saying that this clause is just not right."
The point he's making is that VC contracts tie you down. You have to achieve certain goals in order to obtain the money that the VC offers. More importantly, those goals aren't your own. The VC sets them as a condition for the contract. As a result, you're relinquishing long-term control in more ways than one. Not only do you offer the VC a portion of your profits in return for their investment. But you're also working towards what they want, rather than towards your own vision. If your vision conflicts with that of the VC, the company faces long-term problems. Moreover, you're contractually obligated to ignore your vision in favour of the VC's. The money you receive is never unconditional.
Vembu points out the benefits of choosing against taking the VC money. He says:
"It was a good decision because today I can experiment with technology and invest 50 percent of my money in R&D without having someone telling me where I should put my money."
That's a level of control that you don't get with VC investment. That's not to say that the VC model doesn't work for anybody. Vembu also points out that plenty of companies have achieved success within its confines.
The point he's making is that you have to consider your long-term goals for your company. In many cases, the VC model will conflict with those goals. For Vembu, it would have meant focusing solely on turning a profit, rather than on innovating for the industry. Even back then, Vembu could see that constant innovation would benefit Zoho in the long term. Thus, he declined the offer.
Refusing VC money also created another competitive advantage for Zoho. Not having access to huge stockpiles of money meant that it had to operate smarter. It couldn't rely on throwing cash from a VC at a problem. Instead, the company paid careful attention to where its money went. This efficiency also provides long-term benefits. It ensures that a culture of over-exuberance has never developed at Zoho. Even today, when it's edging close to being a billion-dollar business, it's still very careful with its spending. Zoho has a defined purpose behind every dollar that it spends.
Vembu expands on the long-term benefits that this approach provides.
"We've had the freedom to think and act and invest long term – with five to 10 year horizons, rather than quarterly," he says.
"And unlike most people you read about in the Valley today, we've had to balance this vision with the financial discipline of having to pay for that freedom."
Simply put, spending your own money means you have more respect for that money. Vembu alludes to many similar companies wasting cash they've received from VCs. When the time comes to pay up, they find themselves struggling. Zoho has always worked within its limits, while looking to push those limits further back on a consistent basis.
Vembu is not the only successful tech entrepreneur who supports long-term thinking. Amazon's Jeff Bezos shares similar views. In fact, Bezos' recent $42 million investment into a clock that will last for 10,000 years mirrors his business philosophy.
Bezos also believes in having larger horizons. Working towards the next quarter, or even the next couple of years, places too many limits on your business. You're so focused on achieving short-term goals that you're not thinking about long-term success. Moreover, you get too embroiled into an overly-competitive environment.
As Bezos puts it:
"…If you're willing to invest on a seven-year time horizon, you're now competing against a fraction of those people, because very few companies are willing to do that."
"Just by lengthening the time horizon, you can engage in endeavours that you could never otherwise pursue."
Note the similarities between these two opinions. Both men believe that working towards the long term frees you up to innovate. This means that you're always going to be a step ahead of your competition. While they're looking to compete in the now, you're preparing to excel in the future.
This is something Zoho has done throughout its history. Its early adoption of cloud computing saw it working towards future others hadn't envisaged. Now, it's in prime position to take a huge share of India's burgeoning cloud sector.The same goes for its work with the freemium SaaS model. This is what paved the way for the Zoho One idea.
In this way, Zoho's two major competitive advantages merge. Working towards the long term makes it more able to innovate. As a result, Zoho always adapts to changing consumer needs before everybody else.
Secret #6: Why Zoho Invests 50% Of Profit Into R&D and How It's a Competitive Advantage
Vembu made mention above of his desire to invest half of Zoho's profits into research and development (R&D). That's not an empty statement or a future vision. It's exactly what Zoho does right now.
Again, this links back to Zoho's commitment to constant innovation. As a result, this simple choice proves to be one of the company's largest competitive advantages. Instead of spending money on hundreds of marketers, it relies on the quality of the product to make sales. This creates long-term relationships with a constantly growing client base.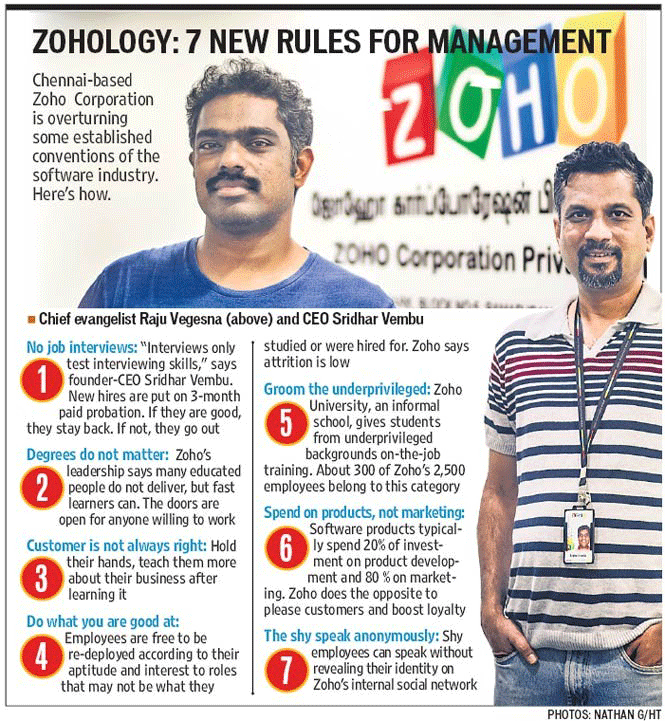 "We would much rather take the money we would have invested in marketing, put that in engineering and give away a really good product… Our cost of customer acquisition is probably one of the lowest in the industry."
But this method also seems counterproductive. The traditional business model has always emphasised the need for active selling.
You create a product.
Then, you get your team to market and sell that product to as many people as possible.
You're constantly pushing the product you have. But this means you're placing less focus on the products you're developing for the future.
Vembu also points out that it's easy to spend money on marketing. Facebook and Google will happily allow a company to spend millions of dollars on advertising.
It's also much easier to do than investing in R&D.
Committing to spending $1 million dollars on Google Ads only takes the click of a mouse. All the while, you're blowing a budget that you could spend on innovating.
This approach also leads to a lack of discipline, which results in even more spending. Eventually, you're so committed to the sales-first approach that your only solution is to throw more money at your sales department.
Zoho's approach flips that idea on its head.
The company invests in making a great product that's easy for customers to access. That's where the freemium model comes into play. This model allows a customer to test the product without having to commit to it. Straight away, Zoho isn't relying on a sales team to get people interested. It's presenting a different way to access the product.
"If you look at the cloud companies as a whole, very few of them actually make money.
This was the same logic applied in 2000 too — growth at any cost.
If you look at the way they're expanding, they're spending $5, $6, $8, perhaps $10 on sales and marketing for every dollar they are spending on R&D. If you look at a typical cloud company now, they may employ 50 engineers, maybe 100 engineers, but they'll employ 500 people in sales and marketing.
As a result, the product portfolios are very narrow, focused on one area, even though the company's size is quite substantial — five hundred people, or a thousand, fifteen hundred — the headcount has ballooned actually…
…For all the new model that they claim to have created, they really go back to a very old model of doing business. It's still the very old one — the sales guy chasing the big enterprise deal.
We are the truly new model. We are very disruptive, the way we do business. Our sales and marketing spend is much lower, correspondingly our cost we charge the customer is much lower.
The way I tell the customer is this: we are not charging you for the privilege of selling it to you."
Sridhar Vembu
A new customer may start with a free Zoho CRM. They'll see the many benefits that it offers, which creates a positive opinion of the company.
As a result, they'll look towards Zoho when they need software for another purpose.
For example, they may need a bookkeeping product. But this product falls within Zoho's premium offering.
That's okay, because the customer already knows about the level of quality the company provides due to the freemium service. This means they're much more likely to pay the price for accessing a premium software. All of the while, that customer will never have spoken to a sales representative. The product has sold itself.
The model has other advantages too. It encourages people to try the service because it's free. This generates the sort of traffic that a sales-oriented company could only dream of. Those companies might argue that traffic or leads have no value if they don't convert. But again, that all comes down to the quality of the freemium product. In Zoho's case, the product is good enough to convince people to buy.
Moreover, this approach leads to brand advocacy. If a freemium user likes what they see of the service, they'll recommend it to others. The kicker is that this freemium user may never upgrade to the premium service. But they've still provided value because they've made other people aware of it. A lifetime free user could generate several sales, again without Zoho ever investing a penny into its sales efforts.
Other cloud company's  spending choices limit the product offering. Vembu says that companies can become massive despite only having a couple of products to sell. But this only sets them up for a bigger fall later on. They're bloated because of the amount that they spend on sales and marketing. If their limited number of products fall out of favour, they're in serious trouble.
He most notably points out Salesforce. But might it be a bloated one? That's what Vembu suggests here. Salesforce currently generates more revenue than Zoho. But what does the future hold?
Zoho's heavy investment has given it a competitive advantage over the more traditional Salesforce model. It's prepared for a future that's shifting more towards the freemium model. Salesforce, on the other hand, may still focus too much of its budget on selling the present, rather than preparing for the future.
Secret #7: How Zoho University Is a Breeding Ground for New Talen
Zoho's focus on the future extends much further than what this article has covered so far. Zoho also recognises that it needs a steady influx of great talent to remain successful.
That's where the concept of Zoho University comes from. Like Zoho itself, the university had humble beginnings.
Founded in 2005, the university had just two teachers. Six students represented the first intake. But since those early days, the university has gone on to educate over 300 students. Many of these people become Zoho employees. But those who don't get equipped with skills that make them hireable all over the world.
Reports suggest Zoho University can create world class programmers in 24 months without any prior experience.
Zoho University isn't a university in the traditional sense of the word. Instead, it's more of an academy for the talented youngsters that Zoho identifies.
The university issues aptitude tests to an array of high schools in Chennai.

These tests reveal to them exactly who has the skills and desire to learn about what it takes to work for a company like Zoho.

A series of interviews follow, during this the Zoho team gets to know more about its prospective students.
Those accepted into the university undertake a rigorous 18-month course.

Focusing on computing, English, and maths, the course gives its students a solid grounding in the skills they'll need to succeed.

It also includes a six-month internship at Zoho's Chennai headquarters.

This helps the students understand how they'll apply their new skills in a working environment.
But there are key differences between this and regular university courses.
For one, each selected student receives a stipend each month.

This acts as an incentive to keep learning, as well as a reward for their dedication to the course. It also means that they're not paying to take part in a course. Instead, they're getting paid to develop the skills that prove most useful at a company like Zoho.

Moreover, the course emphasises practical learning over theoretical.

Over the course of their tutelage, students learn how to tackle the sorts of problems that software engineers deal with daily. In the process, students develop the creative mindset needed to tackle complex programming tasks. All the while, they're feeding the creativity that could lead to them becoming innovators in the future.

Finally, because many of its students come from impoverished backgrounds, some have never even used a computer before joining the university

. But the university's course is so comprehensive that such students are able to write code within a couple of months.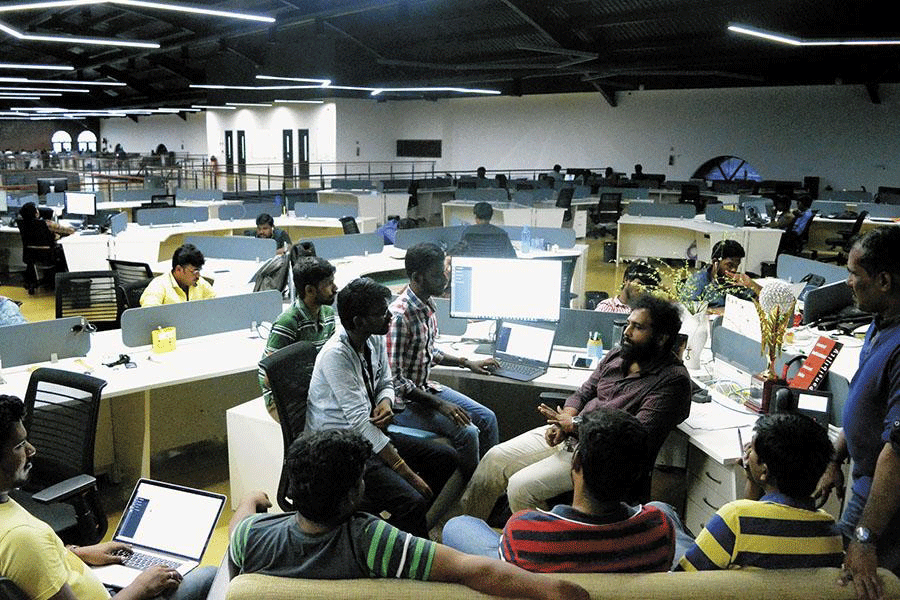 Figure 3 – http://www.forbesindia.com/article/leadership-awards-2017/zoho-busting-the-myth-that-great-software-can-only-be-written-in-silicon-valley/48691/1
All of this leads to one thing – a crop of students who have training in the skills that Zoho needs most.
Result: About 15% of Zoho's current workforce comprises of students who attended Zoho University.
Zoho University Unearths Diamonds In The Rough
But the university also serves a more practical purpose for Zoho. Vembu understood early on that most tech companies spend huge amounts on hiring talented youngsters.
They focus primarily on those who graduate from prestigious universities. Zoho did not have the budget to compete for such talent, particularly during 2005.
The university was another example of Zoho's innovation in action.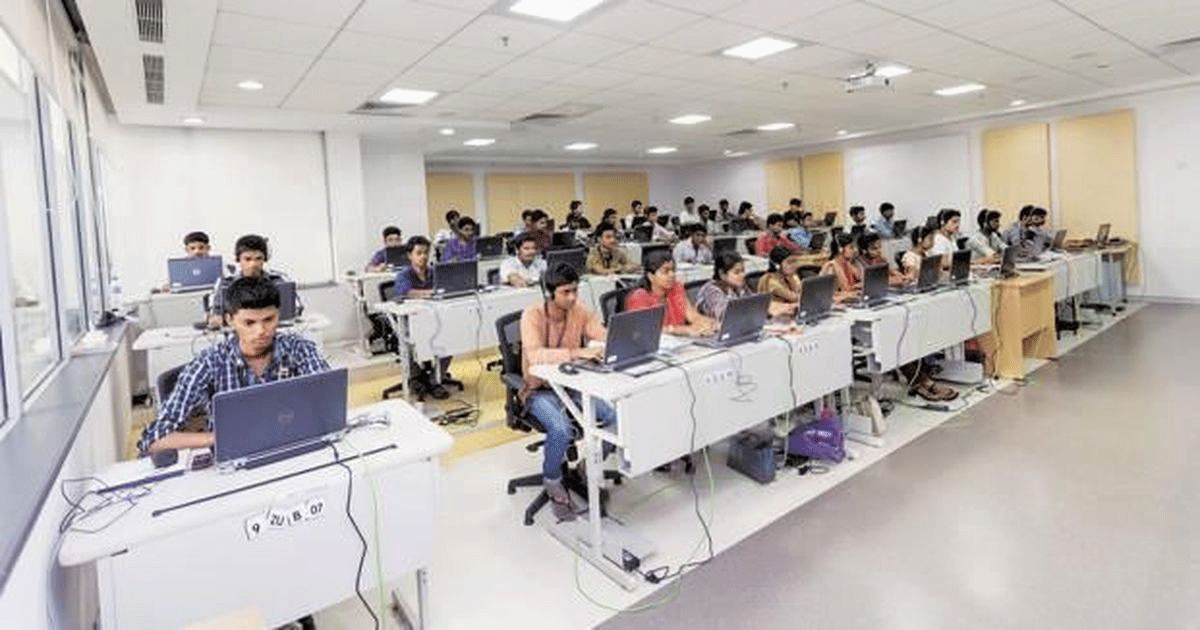 Instead of only looking at established talent, it allows Zoho to focus on the overlooked. People from backgrounds that don't lend themselves to expensive educations get a chance with the university.
As a result, Zoho unearths diamonds that other companies aren't even looking for.
This also creates a great deal of loyalty, which links into the engagement issue mentioned earlier.
A Zoho University student benefits from an education that they may otherwise have never had access to. Moreover, they're offered financial help along the way. Such students appreciates the investment that Zoho makes in them. This means they're engaged before they even start working for Zoho. Moreover, they become advocates for the company very early on in their careers. This higher engagement contributes to the creative thinking that Zoho values so much.
Vembu has a deeper aim for the university too.
He wants to break down the barriers that an overreliance on academic credentials has created. This sole focus on skills and certification means that many companies fail to see the person behind the CV.
With its own university, Zoho connects with the person and helps them to realise their full potential. It then reaps the benefits of this investment by bringing the person into the Zoho fold.
Vembu goes into greater deal during an interview with Forbes. He says:
"Even though Zoho workers are generally sought after in the industry, our attrition is low. I'm a believer in keeping good people. If you want to build key technologies, people should be proud to call your company their home,"
In this way, Zoho University feeds into the competitive advantages that Zoho relies on.
It produces talented people who have an eye towards innovation.

It's a long-term strategy that produces a constant crop of talent to take the business forward.

Finally, it demonstrates the company's unique approach to investing its resources. Instead of spending money on hiring, it invests in the people who will later become part of the company.

It's a breeding ground for new talent. It's also not the only place that Zoho hires from. But Zoho University will become even more important to the company as it develops further.
The Final Word
If there's one thing that separates Zoho from its competitors, it's the desire to do things differently. From the very beginning, the company has stood apart. It refuses to accept investment from VCs. Zoho has constantly embraced and built upon new technologies. Plus, the company invests far more into R&D than its competitors.
Even the methods that it uses to find talent differ from most. But one thing is for certain. Zoho has achieved consistent success since its founding. And its long-term strategy has placed it in a very healthy state.
Zoho may not be the biggest name in the cloud computing space. However, it's the one that many people are keeping an eye on. The company's unique approach has put it at the same table as the heavy hitters. Now, we'll see if it can claim a larger slice of the cloud computing pie in the coming years.